The general ruach in High School is generated by our G.O. This year's heads, Hinda Leah Feigenbaum, Aliza Morris, Tzippy Szendro and Temima Wolf have much in store, including games, monthly Rosh Chodesh activities and more to accompany this year's theme of Dream Big with G.O. In Elul there was a Yom Iyun featuring Jacqueline Sova, a popular speaker who addressed the topic of Tefilla and Communication with Hashem. In Cheshvan the girls did an outdoor activity of Kangoo Jumping which was fun and met the limitations of Covid 19 restrictions. For Kislev, the girls utilized a video presentation to present baby pictures of staff members which led to much good humored guessing of who they really were all while seated socially distanced throughout the auditorium. We hope to continue to creatively generate achdus in our High School through songs and programming all year long.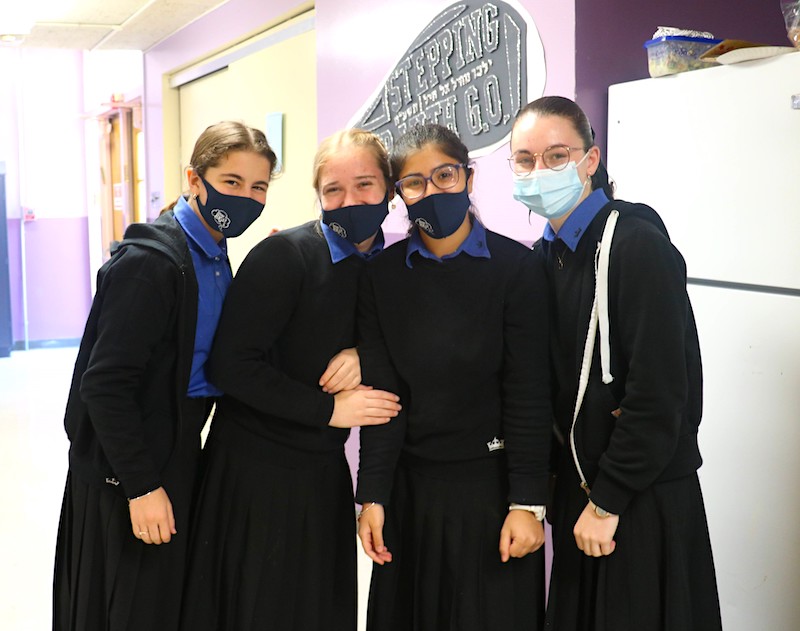 Production
A highlight of the school year for many of our high school students is the annual production. This year's production preparation is beginning and will continue for the next several months.
The production heads, Shaina Golde Osofsky, Shayna Baden, Miriam Rhine and Naomi Prero are excited to lead this year's event. The High School administration is always thrilled to see the hidden talents, energy and friendships that develop as the girls use teamwork and get very involved in and excited about the Production.