Innovation • Inspiration • Excellent Education
Bnos Yisroel educates each student in a nurturing Torah environment, while instilling in her a love of Judaism, self-esteem and a lasting commitment to family, community and Klal Yisroel, as she charts her unique path in Avodas Hashem.
General Support & Sponsorships
Enhance services, support special projects, or create new programs to benefit the students, staff, volunteers, and community. Attribution is listed on all named opportunities and program materials.
Bnos Yisroel Elementary is focusing on Kavod this school year. The girls will seek out ways to...
read more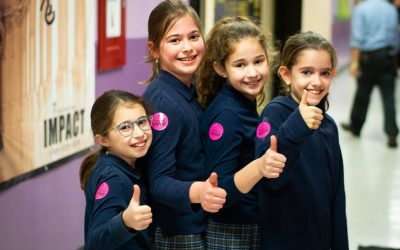 Bnos Yisroel is running a school wide THANK YOU HASHEM CAMPAIGN. Teachers, as well as students are...
read more
"I just wanted to thank you for arranging the school tour for us this past Friday. We were very impressed with the school and the meeting with Mrs Itzkowitz, as well as the tour with Mrs Hexter, and Mrs Turk. We would love for Miri to attend Bnos Yisroel!"
- Naftoli and Shifra Tropper (Preschool parents)
"Having the ability to to send our girls to Bnos Yisroel is a tremendous bracha that we are grateful for everyday. ….
Bnos Yisroel…imbues within each girl a simchas hachaim and a sense of purpose. It is truly an inspirational makom chinuch. "
- Yeshaya and Shoshana Berzon (MS/HS parents)
"Thank you … We are truly appreciative for the care, concern, insights, and education [our daughter receives]. Someone from the outside would have thought that our daughter was the only girl that you were educating. We truly feel important every time we walk in the building… Bnos is truly something special .."
- Rabbi and Mrs. Yossi and Tova Rosenfeld (ES Parents)
"I have taught in many Jewish schools all over the United States. Right from the beginning, it was evident that the administration at Bnos Yisroel respects and supports its teachers… show a great degree of flexibility so that we teachers can work with them to expand the program… I am very happy to be part of the Bnos Yisroel team."
– Mrs. Caela Kaplowitz
I really appreciate the enrichment opportunities that Bnos Yisroel provides. My daughter loved presenting her extra curricular coral reef research report and project to a younger class …she enhanced her descriptive writing in the workshop with Mrs. Ruby Katz, a published author, and stretched her mind with math enrichment. Keep up the great work!
- A Thank you note to Mrs. Shaindy Fine, ES General Studies Curriculum Coordinator